Join our team!
LOH volunteers play a special role as ambassadors of goodwill and are essential to LOH's success!
Interested in volunteering with us?
New Volunteer—send an email to volunteer@lebanonoperahouse.org
Returning Volunteer—click the button below
Please take a moment to review the volunteer expectations and information that can be found under the volunteer guides to the left.
It is vital that you are aware of the COVID 19 protocols in place at the time of the show for which you have volunteered. Health and Safety Protocols
At LOH, we appreciate the hard work and commitment of our volunteers! Here's how your hard work pays off:

See inspiring performances

Volunteering at LOH gives you FREE access to see quality performances on a regular basis. Experience transformative arts experiences in all genres and mediums.


Give back to
your community

Not only are you supporting your local nonprofit arts hub but also all of the community partners and organizations who use LOH as their own stage.


Learn about the
performing arts

Get amazing opportunities to learn about what goes on behind the scenes at a show and work directly with LOH staff to make each performance a smooth and delightful experience.


Make new friends

Meet new people and build our your network of friends through volunteering at LOH.


Build your resume

If you are trying to gain volunteer hours through your job, school, or personally to fill our your resume, LOH can be the perfect fit!
Not every volunteer job is always available depending on the event, please remain flexible so that we can help provide coverage to all needed areas!
Please contact the Volunteer Coordinator if interested in volunteering for one of these opportunities.
General event volunteer
Volunteers are regularly needed at our events to help usher, scan tickets, and greet patrons as they enter the building. These volunteers constitute our core Front of House team helping to ensure that all events run smoothly and that patrons have the best LOH experience.
Ushers
Main duties:
Read and understand seat information on patrons' paper or electronic ticket
Lead or direct patrons to the correct seats in the auditorium
Hand out programs
Answer questions
Required skills:
Knowledge of the theater's seating layout
Ability to walk up and down low-grade ramps and/or stairs repeatedly
Ability to stand for long periods of time
Ability to carry light loads
Ability to read ticket information quickly
Ability to know when to troubleshoot and when to move things up the chain of command
Scanners
Main duties:
Use LOH-provided phone to scan paper and electronic tickets
Help direct patrons to the appropriate theater door closest to their seats
Required skills:
Ability to effectively scan paper and electronic tickets
Ability to troubleshoot basic scanning issues
Knowledge of house layout and ability to direct patrons to seating area if needed
Greeters
Main duties:
Welcoming patrons to LOH
Help direct patrons to the closest scanner
Make sure patrons have their tickets out and ready for scanning
Answer questions
Required skills:
Know the location of other amenities in the building (restrooms, box office, elevator, water fountain)
Know important information about the event's schedule (duration, intermission, photo/video policies)
Know how to read paper and electronic tickets if needed
LOH on Location volunteer
LOH offers many opportunities to volunteer outside of the LOH building at one of our LOH on Location events including Nexus, Hootenanny, or a silent disco. These volunteers help set-up and break down the events while getting to interact with patrons and members of the community.
Ad hoc event volunteer
For some shows we need extra help! VIP meet and greets, pre- or post-show events, merchandise sales, post-show receptions, intermission raffles, security, assisting House Manager with specific tasks on the day of show.
Non-event volunteer
Sometimes we need extra help outside of show days! Poster distribution, record keeping, letter mailing, and other small tasks. If there is something that you think you might be a great addition for the LOH Volunteer Program let us know by emailing volunteer@lebanonoperahouse.org
Volunteer Inquiry Form
Please complete this form to get more information about the LOH volunteer program!
Volunteer at Nexus, our wildly popular FREE music and arts festival, which takes place in downtown Lebanon. For three very full days each August, we call upon a strong team of volunteers to make our signature summer event a smash!
Help LOH staff and fellow arts lovers keep Nexus running smoothly.
With questions related to Nexus volunteering, contact Molly Elsasser, Volunteer Coordinator at volunteer@lebanonoperahouse.org with the subject line "Nexus" or 603.448.0400 x139.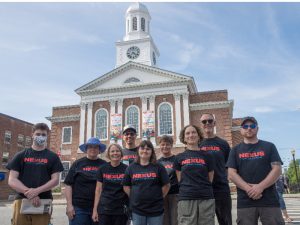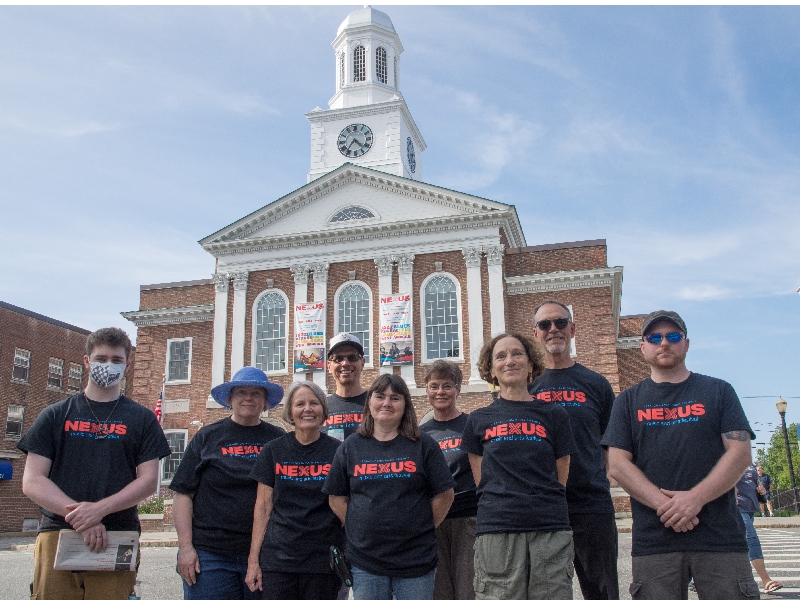 Learn more about the Nexus Music and Arts Festival