Lebanon Opera House Board of Directors
Matthew Locker, President
Christine Morin, Vice President
Patricia Morse, Treasurer
Ann Greenwald, Secretary
Christopher Adams
Sharon Brown
George Caccavaro
Paul Coats
Ellen Dijkman Dulkes
Dianne Estes
Patrick Hayes
Kevin Lane Keller
Ann Munves Malenka
Kay McCabe
Dr. Robert Racusin
Jonathan Scott
---
Lebanon Opera House Staff
---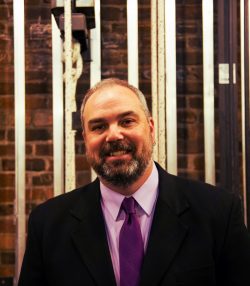 Joe Clifford, Executive Director
Joe Clifford is an arts administration leader with more than 20 years of nonprofit and arts presenting experience; he joined Lebanon Opera House as Executive Director in March 2017.
For the previous 17 years, he had risen through the ranks at Dartmouth College's Hopkins Center for the Arts in Hanover, NH. His most recent work as Audience Engagement Director included oversight of the organization's strategic communication—marketing, public relations, and design—as well as ongoing research about student engagement in the arts. Previously, Joe spent ten years leading the Hop's Outreach and Arts Education programs. In that role, he planned 200 multi-disciplinary residency events each year through the visiting performing artist series.
Joe was a member of the 2019 NH Listens anti-racism cohort via UNH's Leadership Learning Exchange for Equity. He served as a member of the City of Lebanon's Arts & Culture Task Force and was appointed to the City's new Arts & Culture Commission in March 2019.
Joe is a 2018 graduate of Vital Communities' Leadership Upper Valley program and an active board member (and past president) of the Arts Presenters of Northern New England (APNNE) consortium. He recently completed a two-year fellowship program created by the Association of Performing Arts Professionals (APAP) and the Arts Leadership Program at the University of Southern California. In 2004, he was identified by APAP as an "emerging leader" in the presenting field.
Joe is also a founding member and past chair of the NH/VT Upper Valley Arts Alliance. He holds a BA in Communications/Public Relations from Seton Hall University in South Orange, NJ.  A longtime resident of Windsor, VT, he now resides in Plainfield, NH, with his wife and two teenage sons.
You can contact Joe by emailing jclifford@lebanonoperahouse.org.
---
Joel Giguere, Facilities Manager/Technical Director
Joel spent his formative years in the bean fields of Bad Axe, Michigan where his parents instilled in him an early love of the performing arts and adventures in the great outdoors. His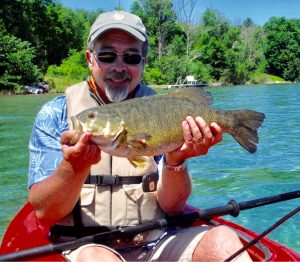 family later moved to Flint and then metro Detroit where he caught the theater bug and never stopped.
He received his BA in Speech, Communications, and Theater from Albion College and immediately moved to New York City where he became the resident lighting designer and technical director at Performance Space – 122 (now Performance Space New York) during the heyday of 1980s performance art and experimental theater. As a freelance designer he designed lights and sets for dance, theater, and performance artists at La Mama ETC, The Kitchen, Dance Theater Workshop, St. Marks Church in the Bowery, and Lincoln Center to name a few.
As a technical director, production manager, stage manager, and lighting designer he has toured extensively with modern dance, working with Alwin Nikolais, The Martha Graham Ensemble, and Second Hand Dance, playing diverse theaters around the world including UFA Fabrik-Berlin, The Munye Theater-Seoul, Victoria Theater-Singapore, The Edinburgh Fringe Festival, The Spoleto Festival, and The Paris Opera Bastille.
As an educator, Joel has been a guest lecturer, a guest faculty member at Bennington (VT) College, and master electrician and student mentor for the theater department at Dartmouth College. When he's not in the theater, Joel enjoys resting with his family as well as fly fishing, hunting, kayaking, and camping.
---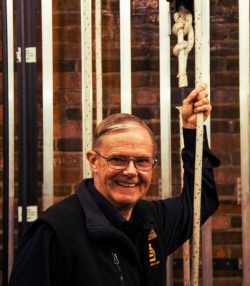 Lauren "Duff" Cummings, Stage Manager
In his 50th season at LOH, Duff is a native of the Upper Valley. In 1969 while a student in technical theater production at Dartmouth, Duff and a group of classmates were asked by their Professor to join Ralph Bowie and the late Jack O'Connell in bringing the Opera House "out of mothballs" after six years of sitting unused.
That experience piqued an interest within Duff that has lasted through a professional career which has included Production Manager at the Hopkins Center, Technical Director of the Reichhold Center for the Arts in St. Thomas, US Virgin Islands, co-producer or Production Stage Manager at a number of major festivals and regional venues throughout NH and VT, founding member of the Board of Directors of Friends of River Park in West Lebanon, and many years as a Public Safety professional here in the Upper Valley. Through all of this he has continued to make time to help with staging shows at the Opera House. Now in so-called "retirement", Duff is pleased to be able to focus even more on helping bring quality productions to our stage and improving our wonderful facility!
Duff lives in West Lebanon with his wife Sandy and their three "kids", Chopin, Lily and Seamus who masquerade as dogs. You may also see him around the area playing bass with "Reckless Breakfast", a popular progressive folk/country/bluegrass band.
---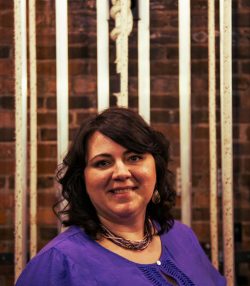 Ellen Phillips, Box Office Coordinator
Ellen is a proud Upper Valley local and has been visiting the Opera House since she was a child. Ellen developed an early love of the theater through opportunities to participate in plays and a film at the Hopkins Center as a child actor.
Recently Ellen has earned her certification as Patron Manager Admin and she enjoys using her skills with the customer relation management tool to improve the patron experience in person and online.
Ellen enjoys cooking, reading, swimming and traveling. She has a long background in customer service in the Lebanon area so you might recognize her when you visit the box office

---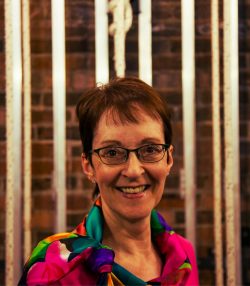 Claire Swanson, Box Office Associate
In 1999, Claire and her husband Peter built their vacation home on Mascoma Lake. Upon her retirement after 35 years as a special education teacher/supervisor/coordinator, they moved full time from Connecticut to Lebanon in 2009. Shortly thereafter Claire began volunteering at the CHaD Family Center's Molly's Place and ushering LOH shows. She loved both so much that they have turned into part-time jobs. Claire enjoys bringing her expertise working with children and families to DHMC.
At LOH this experience has been tapped as she is now the house manager for the Youth Education Series, managing school children and teachers reminiscent of so many a field trip. Many of you will see Claire in the box office for most evening and weekend shows. She continues to enjoy making the Upper Valley her permanent home as she gets to meet you at the opera house.