Tuesday, December 8 6:00 pm
Tickets
Free; registration required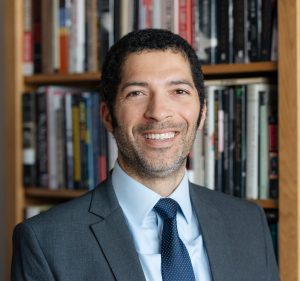 From the campus of Dartmouth College in Hanover, NH, Dr. Matthew Delmont (Sherman Fairchild Distinguished Professor of History) uses American Bandstand to bring together major themes in American history including civil rights, rock 'n' roll, television, and the emergence of a youth culture.
The themes in his book, The Nicest Kids in Town, illustrate how national issues have their roots in local situations, and how nostalgic representations of the past, like the musical Hairspray, can work as impediments to progress in the present.
Grab some take out and tune in to this exclusive LOH discussion. To be added to the guest list, click REGISTER button above and fill out registration form. We'll send a link to the event by noon on December 8.
This fall's LOH on Location series is made possible thanks to the generous support of Kevin and Punam Keller.
About the book:
Counter to host Dick Clark's claims that he integrated American Bandstand, The Nicest Kids in Town reveals how the first national television program directed at teens discriminated against black youth during its early years and how black teens and civil rights advocates protested this discrimination. American Bandstand, one of the most popular television shows ever, broadcast from Philadelphia in the '50s and '60s, a time when that city had become a battleground for civil rights.
About the author:
Originally from Minneapolis, Minnesota, Matthew Delmont earned his B.A from Harvard University and his M.A. and Ph.D. from Brown University. Dr. Delmont is a frequent speaker and consultant on issues regarding civil rights, diversity, inclusivity, and how to reckon with the history of racism in America.
About the facilitator:
John Gfroerer is a documentary film producer and owner of Accompany, a video production company based in Concord, NH. Mr. Gfroerer is a featured New Hampshire Humanities speaker who has presented on ethics and the art of manipulation in television.