COVID-19 Health & Safety Policies
Updated safety protocols (as of January 14, 2022)
All patrons, staff, artists, and volunteers must be fully protected against COVID-19 for entrance to all indoor Lebanon Opera House events. 
"Fully protected" means an individual has completed an accepted COVID-19 vaccine series more than 14 days prior to entry. If eligible, event attendees should also receive a booster shot. Please consult the CDC's resources on current booster eligibility.
Children under the age of five or anyone with a valid exemption from vaccination must have a negative result of a COVID test administered within 72 hours prior to the event start time. Acceptable tests are a nucleic acid amplification test (NAAT) or RT-PCR viral tests. Rapid antigen or antibody tests will not be accepted.
Unless performing on stage, face coverings will be required for everyone, regardless of age or vaccination/testing status, at all times while inside the building per City of Lebanon requirements. Masks will be provided to any guests who request them.
Proof of vaccination can be in the form of your physical vaccine card or a photo/scan of your card. We recommend anyone attending events with arts organizations in the region download Bindle to safely manage their vaccine information and streamline the check-in process. Download "My Bindle" via the Apple App Store or Google Play Store. Patrons who are already using the Bindle app are encouraged to update their profile after receiving their booster.
We are returning to our general policy of "no refunds/no exchanges" unless a show is cancelled or rescheduled. If you are feeling sick or cannot attend an event for any reason, please contact us at boxoffice@lebanonoperahouse.org. We are working diligently to continue hosting events that bring our community together safely; please refer to this page for the most up-to-date information.
— Joe Clifford, Executive Director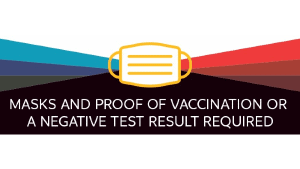 Protect your privacy—and get to your seat faster 
Download "My Bindle" via the Apple App Store or Google Play Store.

After you download the app, create an account by providing a photo, email address, and date of birth.

Upload photos of your COVID-19 vaccination card (or test results) by going to My Certificates and tapping the "+" icon and follow the instructions.

Once you've securely uploaded your vaccine record or test results, go to My Passes and search for "Lebanon Opera House." Then, click Create Entry Pass. If fully vaccinated, your Entry Pass can be used for unlimited visits. If you are verifying negative test results, a quick update to your Entry Pass is required ahead of each event.


When you arrive at LOH, our staff will look for the green check mark on your Entry Pass, scan your ticket, and direct you to your seat!
More detailed instructions here
Help with the bindle app is available by emailing support@joinbindle.com
Arrival Protocol
When you arrive, please be prepared to show a valid ID and proof of COVID vaccination — or a COVID-negative test result. Proof of vaccination can be in the form of your physical vaccine card or a photo/scan of your card. We do, however, recommend patrons use the safe and secure My Bindle app available in the Apple Store and Google Play. If you find you need help creating your pass for the show please reach out to Support@joinBindle.com.

We will be conducting health screenings at the outside doors and allowing entry into the theater 45 minutes prior to showtime. Please come prepared for the weather, as you may encounter a wait outside while we check everyone in.
Your tickets will be scanned once you enter the front lobby. Please have them out and ready to scan. This will allow you to go directly to your seat.

Have your mask and be prepared to keep in on throughout the performance.
We appreciate your cooperation with these policies. They are vital to keeping LOH open and operating!
If you have questions or feel that you cannot comply with these health and safety policies, please contact the box office boxoffice@lebanonoperahouse.org or by phone (Monday through Friday from noon-5pm) at 603.448.0400.
Acceptable forms of ID are:
Valid, State-issued, Driver's License (not clipped or punched VOID)
Valid, State-issued, Identification Card (with photo)
Valid Learner's Permit (with photo)
Valid Passport
Valid Tribal ID
Valid Military ID
Valid = Unexpired
How to Connect With Box Office Staff
In-person box office operations remain limited to one hour before show time; ticket and gift card purchases can still be made 24/7 at lebanonoperahouse.org or by calling the box office Monday through Friday noon-5 pm.
If you require assistance, please call 603.448.0400, and dial 1 to reach the box office voicemail. We can also be reached by email at boxoffice@lebanonoperahouse.org.