Sponsor Inspiring Performances
Put your company's name in front of the crowd
An LOH Corporate Partnership gives your business the ability to support one of the Upper Valley's most respected nonprofit organizations while receiving unique marketing benefits.
We are an independent nonprofit organization that receives no direct funding from the City of Lebanon.
Donations to LOH enable us to achieve our goal of presenting high-quality performances in music, dance and theater. Help sustain the work of this community arts hub—show your support today.
Contact Maureen Krauland at 603.448.0400 or mkrauland@lebanonoperahouse.org
PARTNERSHIP BENEFITS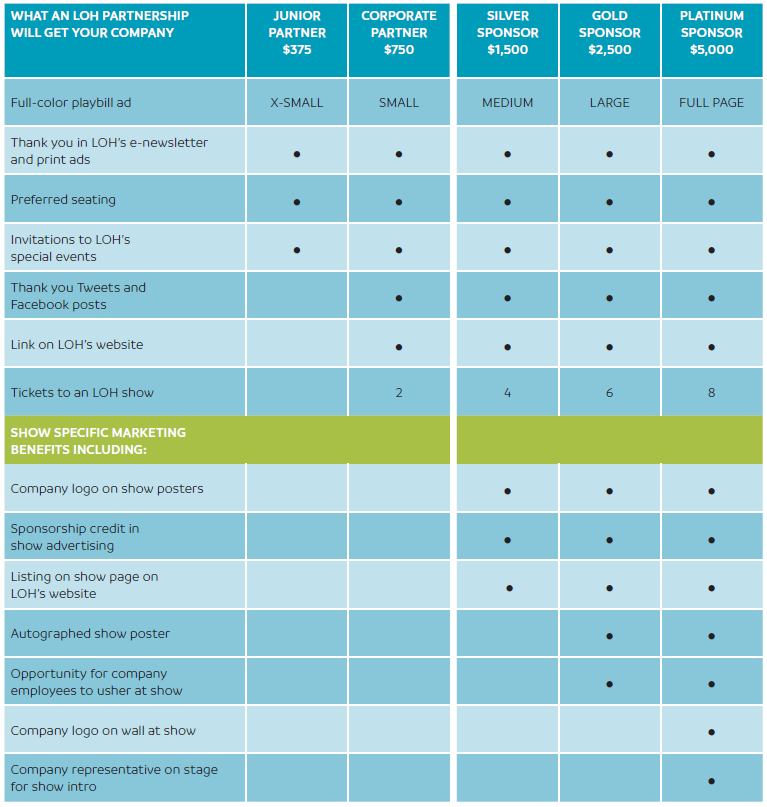 2020/2021 LOH PLAYBILL AD SIZES
| | |
| --- | --- |
| FULL PAGE | 7.625″ x 10.375″ |
| LARGE | 5″ x 10.375″ |
| MEDIUM HORIZONTAL | 7.625″ x 5.0625″ |
| MEDIUM VERTICAL | 5″ x 7.625″ |
| SMALL HORIZONTAL | 5″ x 5.0625″ |
| SMALL VERTICAL | 2.375″ x 10.375″ |
| X-SMALL HORIZONTAL | 5″ x 2.5313″ |
| X-SMALL VERTICAL | 2.375″ x 5.0625″ |