Frequently Asked Questions
I bought tickets through other, secondary market sources (i.e. – "scalpers" online or in person) – are my tickets legit?
LOH does not endorse using any secondary ticketing sources. Our Box Office can not resolve any issues involving them, such as lost tickets or bogus tickets. Tickets for all of our shows are sold through Lebanon Opera House from our web sites (lebanonoperahouse.org) or in person at the Box Office at Lebanon Opera House, or by phone at 603.448.0400. Tickets are sometimes available through artist fan club sites as pre-sales or special VIP packages. LOH has the right to cancel ticket transactions that are suspected of being purchased for the sole purpose of reselling.
What time does the show actually start/when do doors open?
The time on your ticket is when the show is scheduled to start; of course some artists are more punctual than others. The building doors are open one hour before the show and the doors to the theater usually open 30 minutes before showtime. In the case of General Admission shows, be aware that there may be a line forming up to 1 hour before a show in the lobby. If the performance time is outside of our normal business hours (M-F 12-5), the LOH Box Office will open 1 hour before the scheduled showtime to pick up your tickets. The Box Office will be staffed through the first intermission and we ask that purchases for other shows take place during that intermission.
Is there an opening act?
When possible, the inclusion of an opening act will be announced ahead of time, however artists will sometimes bring a surprise opener with them. Either way the show will start with the opening act at the advertised time and the headliner will follow. If a show is billed as "an evening with", there is no opening act.
How do you define "Senior" and "Child" priced tickets?
Unless otherwise noted, prices for seniors are 65 and older and children are 17 and younger. On occasion, a show will have "student" pricing which includes any student currently enrolled in an educational institution, with a student ID. Children less than 2 year old do not need a ticket.
What time does the show end?
This varies greatly with each show, but 90% of shows that begin at 7:30 pm are over before 10pm.
What are your policies regarding photo/video/audio?
LOH does not allow flash photography as it can be distracting to other patrons. The individual artists often have their own policies, but many allow non-flash photography with personal use cameras and prohibit video recording and cameras with detachable lenses. More restrictive photo policies will be posted and announced at the show. Please respect those around you.
Are shows 'all ages'?
Unless otherwise noted on the individual event page, shows at Lebanon Opera House are all ages, and children under the age of 2 will be admitted free. Please note that many events held at LOH are loud, often 95-100 dB.
What is your non-smoking policy?
Smoking is 100% prohibited and will not be tolerated.
I ordered tickets online but didn't receive the confirmation. What do I do?
When you successfully complete an online ticket purchase a confirmation number is displayed in the order window as shown in example below: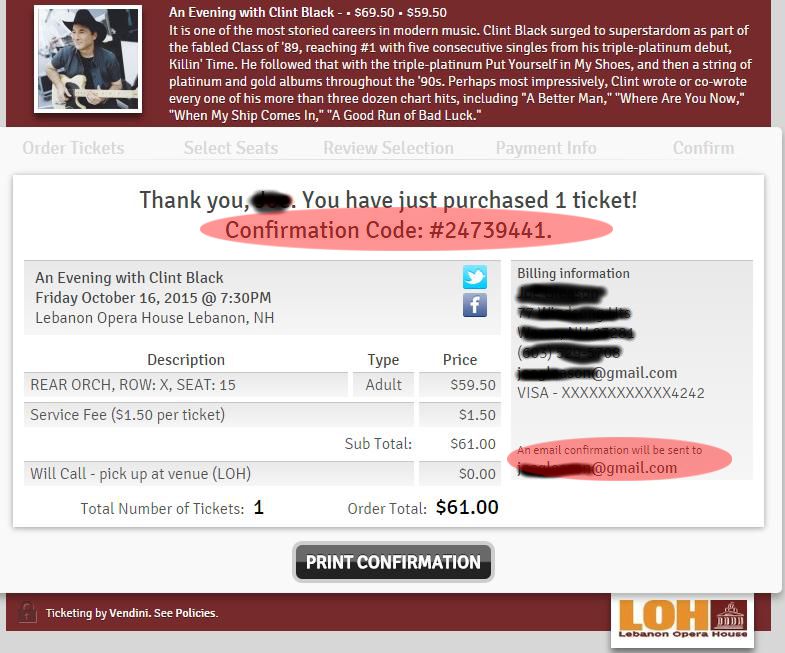 (click picture to enlarge)
If you don't see this when ordering then your purchase has not been completed. An email confirmation will also be sent, if you don't receive the email check your spam or junk folder for the confirmation. If it's not there, please call the box office to confirm your order.
I've lost my tickets. What do I do?
If you bring your ID to box office, we can almost always re-print your tickets.
May tickets be refunded or exchanged?
All ticket sales are final and non-refundable. Some tickets may be returned to the box office at any time before a show as a tax-deductible donation to Lebanon Opera House.
I ordered tickets online but I did not see an option to have my tickets mailed to me.
If you need your tickets mailed to you, please call the Box Office and let us know at 603-448-0400. A charge of $4.00 applies. If there are fewer than 10 business days until the event, we will hold the tickets at will call for you pick up.
Where do I park?
Free parking for LOH events is available in the front of the building around Colburn Park; in the municipal lot in back; or on the other end of the pedestrian mall.
Is food and alcohol available during the show?
Local non-profit organizations often sell light snacks and desserts and non-alcoholic beverages in the lobby before a show and during intermission. Please consider supporting these organizations, but food or drink are not allowed in the theater so all refreshments must be consumed in the lobby. Because LOH is located in a municipal building, no alcohol is allowed on the premises.
Is LOH Handicap Accessible?
The lobby, box office, rest rooms and orchestra level of the theater are accessible by elevator, which is located through the City Office entrance on the on the east side of the building.  We have two dedicated wheelchair seats in the orchestra section, each with companion seats.  In addition to the wheelchair seats we also have 8 seats at the end of selected rows with arm rests that fold up for those with limited mobility. The balcony is not handicap accessible. If you need access to any of these seats for a show that is either reserved seating or general admission, make sure to let the Box Office know.
How do I request an appearance by my favorite artist?
We always welcome suggestions for performers. You can call the office (603.448.0400) with your recommendations, or e-mail them to info@lebanonoperahouse.org.
How big is the Opera House?
The Opera House seats 803, including eight handicapped accessible seats and 2 spaces for wheelchairs. The orchestra level holds 582 and there are 221 seats in the balcony.
May I dance during a performance?
During high-energy, music performances, you are allowed to stand at your seat. Please be courteous to those around you. You are also allowed to stand at the rear of the auditorium. All aisles must remain clear through the performance.
Will my bag be searched?
At this time, we are not intentionally searching bags. We do withhold the right to request a bag search if we suspect a patron is smoking or vaping in the venue, carrying food or alcohol, or has items intended to harm the audience. Patron may be asked to leave the premises.