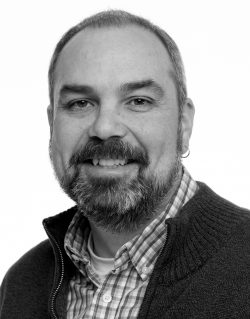 The Lebanon Opera House (LOH) Board of Directors has successfully concluded a comprehensive search process and is pleased to announce that Joe Clifford will serve as the organization's new Executive Director, effective March 20, 2017.
Clifford, a resident of Plainfield, NH, is an arts administration leader with more than 20 years of non-profit and arts presenting experience. For the past 17 years, he has risen through the ranks at Dartmouth College's Hopkins Center for the Arts in Hanover, NH. His most recent work as Audience Engagement Director included oversight of the organization's strategic communication—marketing, public relations and design—as well as ongoing research about student engagement in the arts. Previously, Joe spent ten years leading the Hop's Outreach and Arts Education programs. In that role, he planned 200 multi-disciplinary residency events each year through the visiting performing artist series.
"I consider myself a cultural matchmaker and it's a role in which I thrive," Clifford said. "Whether connecting artists and audiences in the Upper Valley, or opening the doors to unbridled creativity at an Ivy League institution, my professional career has allowed me to share my passion for the arts and culture with those around me. It's a conversation I'm eager to continue with Lebanon Opera House's patrons, supporters and community partners."
Joe is an active board member (and immediate past president) of the Arts Presenters of Northern New England (APNNE) consortium and recently completed a two-year fellowship program created by the Association of Performing Arts Professionals (APAP) and the Arts Leadership Program at the University of Southern California. In 2004, he was identified by APAP as an "emerging leader" in the presenting field. He is also a founding member and past chair of the NH/VT Upper Valley Arts Alliance.
According to LOH Board President Kevin Lane Keller, "Joe's wide-reaching experience coupled with his regional and national visibility make him an ideal leader to take LOH to the next level. His talents and deep understanding of the Upper Valley region made him rise to the top of our candidate pool."
Clifford holds a BA in Communications/Public Relations from Seton Hall University in South Orange, NJ.  A long-time resident of Windsor, VT, he recently relocated to Plainfield with his wife and two children.
With its 800-seat theater, Lebanon Opera House is one of New Hampshire and Vermont's premiere performing arts venues and a cultural center of the Upper Valley. LOH attracts a diverse audience through its rich programming and is also home to several area performing art companies. Playing a vital role in the community, Lebanon Opera House hosts more than 55,000 visitors, 7,000 students, and 25 community groups each year. Lebanon Opera House is truly all about enabling "inspiring performances." Day after day, week after week, month after month, it brings joy and inspiration to performers and audiences alike.
For more information please contact Ann Munves-Malenka, Chair, Executive Director Search Committee, LOH.Search@gmail.com.
Photo credit: Rob Strong
###